Professional Skills Training Attracts Progressive Participants From Across the Globe!
"REVEALED: ALL THE INSIDER TIPS OF ADDING THE ACCELERATED LEARNING AND CLIENT PLEASING EFFECTS OF 'INTERACTIVE VISUALS' TO YOUR COACHING, FACILITATION OR TRAINING TOOLKIT … whether you are an artist OR feel you have zero artistic ability!!!"
Upcoming Options:
Act Now! Only 1 Spot Left!
In-Person Workshop: May. 30 – June 1, 2013, Victoria, British Columbia, Canada
For Coaches, Facilitators, Consultants,fW
Trainers & Other Process Leaders.
Fundamentals of Interactive-Visuals is a highly experiential, information packed, fun, and limits-shattering training where you learn the foundational theory and skills of working visually… then roll up your sleeves and do it yourself!
You emerge with a thorough understanding of the different ways interactive visuals can be used with individuals, partners and groups … and are pleasantly surprised by how much YOU can do yourself after just three days.
Plus you meet other interesting, inspiring people doing cool work in the world –– members of your global visual tribe!
Research States That Up To
87% Of The Population

Are VISUAL THINKERS. Learn To Tap The Power Of VISUAL LANGUAGE To MORE EFFECTIVELY Reach YOUR Clients!
People Retain Around
65%

Of What They SEE And Only

15%

Of What They HEAR. The Use Of VISUAL LANGUAGE Promotes LASTING IMAGES And RETENTION Of IDEAS.
---
Before we discuss the workshop in depth, let me explain a bit about the term 'interactive-visuals'. I've been in this visual field for 17 years now, and I've worked extensively in what I consider the four main applications of the work: creating custom made info murals, providing 'visual recording' services (live visual summaries), facilitating strategic meetings via 'visual facilitation' methods and … have been a global pioneer in working visually with individuals and couples (visual coaching).
Obviously these are a mouthful of terms … so I just simplify it and put everything under the banner of 'interactive-visuals'. As the unifying factor is harnessing the power of visuals to help people interactively communicate, collaborate and make decisions – whether in group or individual settings. The underlying base skills, which I teach in this professional skills training, are the same … just applied in different ways depending on the populations you work with and the service you provide for them.
Here are a few examples of Interactive-Visuals: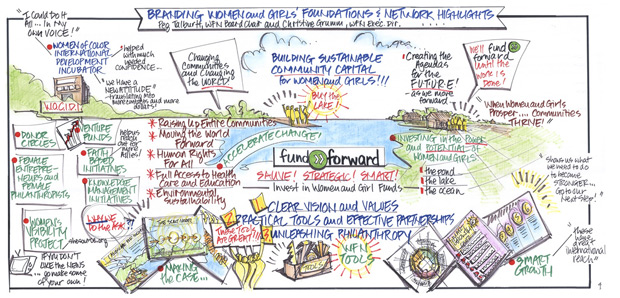 Visual Recording (visual summary) of Conference Presentation (large view).
---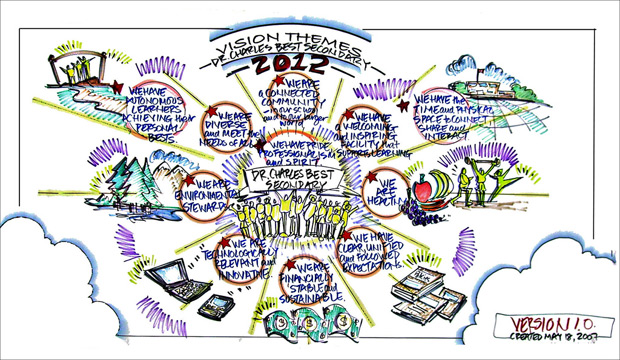 Visual Facilitation: Strategic Vision for High School
(template courtesy of Grove Consultants) (large view).
---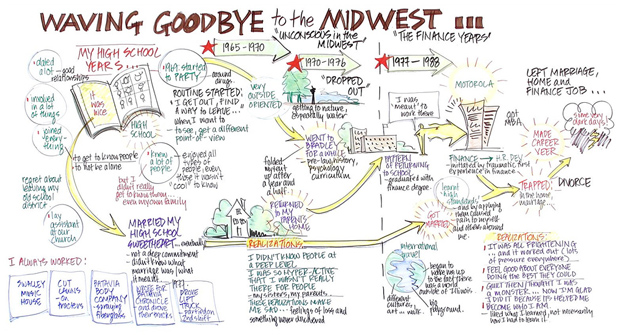 Life Map for Coaching Client, Part One (large view)
---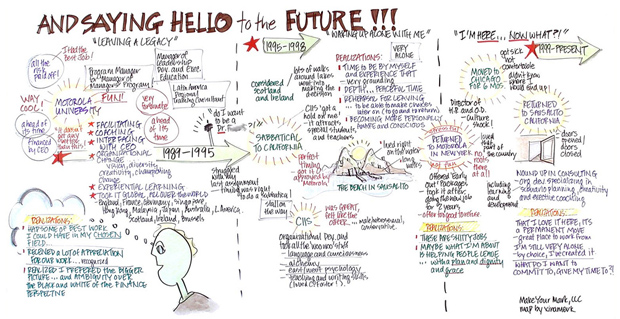 Life Map for Coaching Client, Part Two (large view)
---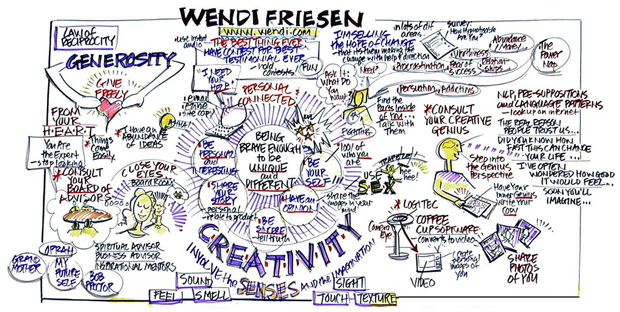 Visual Recording From Hypnotherapy Discussion (large view)
---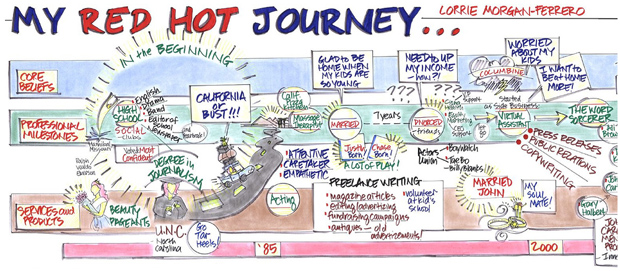 A "Visual Bio" (custom chart) Created for Workshop Leader
(large view)
---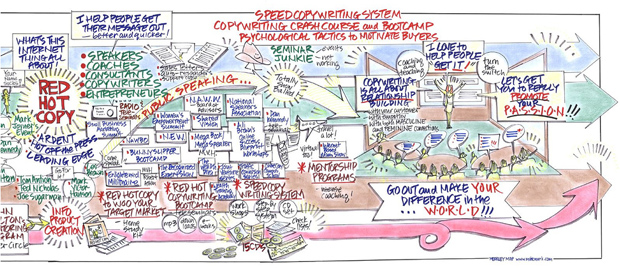 A "Visual Bio" (custom chart) Created for Workshop Leader
(large view)
---
The Fundamental Visual Skills I Teach You Can Be Applied to a Full Spectrum of Organizational and Coaching Processes …
Interesting huh?! In Fundamentals of Interactive-Visuals we'll cover the whole gamut of ways that visuals can be applied in group and individual settings … including but not limited to …
… brainstorming/idea generation, history & life mapping, visioning, strategic planning & action plans, conflict resolution/mediation techniques, succession planning, entrepreneur/partner discussions, family councils, world cafes, dialogue circles, value proposition work, values & mission/vision clarification, product development, process mapping, etc. etc. etc.
Over the last decade, I've developed my own custom visual coaching process for working with individuals, called The SHIFT-IT Visual Coaching Process® … to see me working 'at the wall' with my client Alan (on a beginning SHIFT-IT move called the 'Focus on Me' map) see the video below … it will give you a sense of one aspect of this way of working …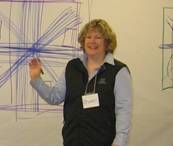 "VERY SUCCESSFUL CLIENT WORK RIGHT AWAY"
"Christina's visual facilitation work takes coaching to a new level of expression and connection with clients. I just attended Meeting Graphics 101 (after reading her article in the Coaches Training Institute newsletter) — truly a valuable way of expressing ideas and working with clients. One of THE MOST INTERESTING courses I have EVER taken. The sky is the limit as to how I will be applying graphics to my practice. I've already had two very successful experiences with clients using what she taught me, and it's only been two weeks since the workshop!"
- Shannan Brown, formerly Coast Community Credit Union, HR, Now Independent Coach & Consultant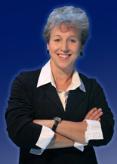 "GENEROUS TEACHER – SAFE AND FUN CONTAINER!"
"Christina is a supportive and generous teacher. She creates a 'container' that makes self-expression, self-discovery and self-exposure stimulating, safe and fun. I'm so excited to use these new skills in my work with clients!"
- Andrea Williams, Life Launcher, www.fearlessfabulouslife.com, Hillsboro, New Hampshire, U.S.A.
Here are some of the many benefits of working visually for you to consider …

THE BENEFITS OF WORKING VISUALLY:
While Interactive Visuals is pleasing to the eye … these methodologies are WAY MORE than just pretty pictures! That's because they…
Engage Clients via the Learning Modality They Prefer Most (87% of people are visual thinkers);
Sky Rockets the Process of Making Critical Decisions;
Enhance Retention & Understanding Of Key Themes And Main Ideas;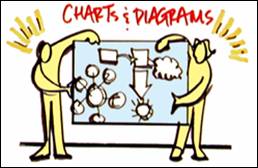 Increase Clarity And Comprehension (People Literally See What They Mean);
Boost Learning For Visual

And

Kinesthetic Learners (and still gets the auditory types too);
Heighten Thinking Levels (Enables Higher and More Complex Levels Of Dialogue And Discussion);
Revitalize Energy And Interest Levels… Makes Sessions More Enjoyable and Interesting;
Lower Misunderstandings And Helps Resolve Conflict (people feel acknowledged and heard when their ideas are recorded verbatim);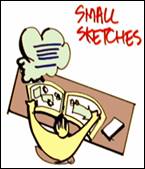 Help Clients See How They Are Being Interpreted;
Creates A Visual Memory (that can be referred back to);
Equips Participants With A Unique and Tangible 'Takeaway' Of Their Experience (Paper Or Digital);
Ensures Easy Sharing And Communication Of The 'Gestalt' Of Their Session;
Makes You Stand Out From the Crowd (and makes sales conversations more engaging and increases client closing rates … clients literally see what they are purchasing).
"Research has shown that visual language used in meetings shortens meeting time by 24%. Visual language aids the decision-making process, 64% of participants made decisions after seeing visual displays".
Millie Sonneman, Hands on Graphics
… as that long list of benefits shows, this way of working is much more than pretty pictures or 'art' … it's a serious thinking methodology (that also happens to be very enjoyable, for both client and practitioner alike!
---
Now that you understand the benefits of working visually, AND why these rare skills are so worthwhile and valuable …
… let's go a little deeper into the actual workshop and how it will teach you many things that you can INSTANTLY INTEGRATE into your own professional practice.

HERE'S WHAT
YOU'LL

EXPERIENCE AT
Fundamentals of Interactive-Visuals:
Training Outcomes:
Imagine Yourself Really Getting What This Visuals Stuff Is All About And Having Your Eyes Opened Wide To The MANY OPPORTUNITIES That Lay Before You (as you integrate these new skills into your own coaching, facilitation, training or consulting practice);
Imagine The Feel Of The Markers In Your Hand And All The Other Cool Supplies You Now Have Free License To Play With On A Regular Basis – As Part Of Your Work!
Practical Instruction in All of the Four Main Applications of the Visual Way of Working: Custom Chart Work, Visual Recording, Visual Facilitation and Visual Coaching (and identify which area you are most interested and comfortable in);
Be Pleasantly Surprised By What You Can Do After Just 3 Days – Know That This Work Isn't A Hard New Beginning, But Rather A Natural Build Upon Who You Already Are And the Work You Already Do (that you can immediately bring back with you and do!);
Be Inspired And Impressed By The Interesting People From Across North America (and the globe!) Who You'll Meet at This Workshop –… Learn From Each Other, Make Friends, Share Resources, Network and Bond;
Walk Out With A Renewed Interest in Your Profession – Knowing You've Found Something That Really Suits You And The Way You Operate In The World … That You Don't Have To Compromise Your Creative Side Any Longer – There Is A Way to Enjoyably And Profitably Express It.
You can expect that and more …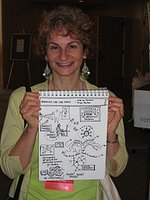 "HER ENCOURAGEMENT GAVE ME THE CONFIDENCE TO FULLY STEP OUT AS A VISUAL RECORDER – NOW I HAVE SO MUCH BUSINESS I'M CRAVING TIME TO CATCH MY BREATH!"
"I've now taken two of Christina's workshops and both have been excellent. She creates a lively and stimulating atmosphere, showers us with valuable resources, and is unfailingly helpful both during the workshop and in post-workshop coaching. It's great to have a generous pro like Christina here in Canada. Her encouragement gave me the confidence to fully step out as a visual recorder, and she's continued to show a real interest in my progress – even made me one of her Preferred Partners! Now I have so much business I'm craving time to catch my breath! Amazing and exciting."
- Avril Orloff, Visual Recorder, Vancouver, British Columbia

"HUGELY ENJOYABLE AND IMMEDIATELY APPLICABLE!"
"As someone who got an F in Art when I was twelve years old I've always lacked confidence when it comes to the visual finesse of my handouts and flipcharts. After the workshop I'm now much more confident and competent and have been able to apply what I learned throughout the summer. The workshop was hugely enjoyable and immediately applicable … you can't get much better than that!"
- Dave Whittington, Co-Owner, Calliope Learning / Royal Roads University, MBA Faculty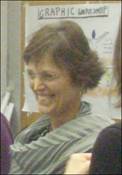 "WONDERFUL OPPORTUNITY TO ESTABLISH STRONG RELATONSHIPS WITH COLLEAGUES FROM ACROSS THE WORLD!"
"Being the volunteer for the Life Map demo was a great experience! I loved the demos done by Christina and her encouragement as we did them on our own. Limiting the participant count allows for a comfortable setting and creates a wonderful opportunity to establish strong relationships with colleagues from across the world. Since being back I've been doing lots of pre-charting and practicing. My husband has threatened to tear down the walls so I can't put up any more paper and create my trails of dust (pretty colored pastel dust)!"
Jan Spaulding, W.K. Kellogg Foundation, Battle Creek, MI
AGENDA ITEMS
… AND, here are the literal agenda topics we cover over the three days…
The History Of The Field, Basic Definitions And Terminology;
The Four Main Visual Applications (Custom Chart Work, Visual Recording, Visual Facilitation And Visual Coaching).
What The Special Materials Are And Where To Find/Purchase (Display Tables Of Products, Books, And Other Resources);
How To Hang And Handle The Large Wall Size Paper (if you want to work in-person w/ your clients);
Foundational Marker Skills (How To Hold, Color Selection, Line Textures, Lettering, Etc.)
Easy Routines For Drawing Simple Shapes, People, Objects, Etc (Starter Icon Library of Common Coaching Icons);
How to Work Virtually (when you are not face-to-face with your client);
Materials And Tricks You Can Pre-Prepare Ahead Of Time To Make Your Work More Effective And Visual;
How to Create Custom Posters and Charts to Get a Subliminal Tone and Message Across;
Visual Products on the Market That You Can Integrate Into Your Work;
Life Map Demo and Practice Pairs;
Demos of Visual Recording and Visual Facilitation (that fit into personal growth contexts);
The Concept of Templates … and How to Create Your Own;
Brainstorming on Identifying Your Coaching Process and How to Add Visuals to It;
Discussion on How to Involve Clients in Creating Their Own Visuals;
Partnering on More Illustrative and Information Architecture Type Projects
Non-Drawing Ways To Bring The Power Of Visuals Into Your Work;
Ideas for Using Visuals in Coaching Groups and Support Groups;
What To Do After the Facilitation or Coaching Is Complete (Examples Of Reports And Discussion of Reproduction Techniques);
Next Steps For Integrating Your New Skills Into Your Coaching, Counseling or Consulting Practice And How To Keep Your Momentum Going;
One Private, Post-Training Coaching Call for Any Specific Questions and Mentoring You May Need (Feedback On Your Charts, Debrief Of Live Experiences, Business Development, Marketing Guidance, Etc)
— conducted by phone and through email … send your charts and photos for review.
As you can see we cover A LOT over the course of three-days – a terrific foundation is laid — step by step.

Here's some more comments from my past training participants …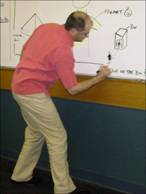 "AN ESSENTIAL TOOL FOR FUTURE LEADERS!"
"One of the most important aspects of leadership is the ability to communicate. Using visuals enhances communication and therefore is an essential tool for future leaders".
- Lachlan Whatley, Department Chair, Business Dept., University of the Fraser Valley, www.ucfv.ca

"NEW WAY TO CREATIVELY BRIDGE CHAOS AND COMPLEXITY"
"These skills offer me a new way to creatively bridge chaos and complexity, a value add to my skills as a consultant working with whole systems and culture-shifting in organizations!"
- Michael Keller, Consultant and Faculty at Royal Roads University, Leadership & Training Program

"CAME HOME WITH A PRODUCT I CAN USE RIGHT AWAY – I'M REFERRING YOU TO MY COLLEAGUES!"
"Thank you so much for the most excellent training. I learned so much. The one-on-one time with you to draw on your vast experience with visual recording and especially visual facilitation – priceless. I learned so much AND came home with a product that I can use right way. My clients are going to be thrilled when I show them what I can do for them thanks to my training with you. I'm referring you to my colleagues!"
- Judi Adams, Adams & Adams Consulting Inc., San Diego

"AMAZING RESULTS … CHRISTINA IS A VERY CONVINCING & PERSUASIVE PROFESSIONAL AND TRAINER"
"Rich experience, solid preparation and presentation. Seeing all the amazing results of the group. A very solid and well-balanced training experience. Christina is a VERY convincing / persuasive professional and trainer."
- Suzanne Hoogwater, Legal Visuals Inc, Lawyer and Info Designer, Netherlands and Denver, CO
ABOUT YOUR TRAINER: CHRISTINA MERKLEY, M.A.

Visual Thinking Expert and The SHIFT-IT Coach
I really enjoy being a teacher (does it show – hope so!).
It is the culmination of over 17+ years in the Visual Thinking industry — and a whole lot of ups and downs and lessons learned along the way.
Through experience, I've now got it honed down and am ready to get my knowledge out of me … and into you …
… so you have a nicer, safer, and more collaborative learning journey than the school of hard knocks I had to go through to develop my multiple skills.
If you are interested, here's my story and how visual coaching as a niche was created …
CHRISTINA'S VISUAL TALE …

Christina's Visual Bio: (large view)
It all started many moons ago … 1994 to be exact. I was in San Francisco, getting my Masters Degree in Organizational Development & Transformation — and I by synchronicity (fate!) stumbled upon the visual way of working while still wet behind the ears in grad school …
I used visual techniques in my thesis project after doing an internship with The Grove Consultants Int'l (pioneering group visuals consulting firm) and was amazingly fortunate to get hired by Grove during the height of the high tech boom in Silicon Valley.
For years I functioned as a Visual Facilitator and Visual Recorder based out of San Francisco … creating my first company, Make Your Mark, LLC (see www.makemark.com)

"I've worked with Christina on over a dozen consulting and change management projects since '97. She's exceptional. Reactions to her work have ranged from happily impressed to outright awe. On a particularly high-level e-business strategy workshop for a Fortune 20 client, a member of the Dow-30, the executives' collective opinion was that her abilities 'allowed us to see things we'd been trying to comprehend for weeks.
- Ken Weitzel, Director, The Corporate Executive Board, Washington, D.C
Christina's Past Corporate Client List
Technology:

Microsoft
Institute for the Future
Hewlett-Packard
Digital 4Sight
EBay
Stanford University, IT
Computer Sciences Corp. (CSC)
Nightfire Software Solutions

Healthcare:

Santa Clara Valley: Public Health
St. Mary's Health Network
Kaiser Permanante
Blue Shield
Health Technology Center

Government:

U.S. Department of Energy
BC Buildings Corp
Public Solutions
Parks Canada
BC Ministry of Family & Children
Land Title & Survey Authority

Foundations:

Gordon & Betty Moore Foundation
Kauffman Foundation
Dewitt-Wallace Readers Digest
Stupski Family Foundation

Associations:

Forum of American School Superintendents
American Institute of Architects (AIA)
American Institute of CPAs (AICPA)
California Association of Realtors
California Association of CPAs
Ass'n of Web Entrepreneurs
Nat'l Ass'n of Women Writers
Maryland Ass'n of CPAs

Other:

Young Entrepreneurs Org. (YEO)
Chemainus First Nations
Royal Roads University
Great Canadian Dollar Stores
Villages Pizza
Zenmed / Raging Creations
Comox Valley Economic Dev. Society
Contech Electronics
Journey Middle School
Sir James Douglas Elementary School
Single Parent Resource Center
Hill Enterprises, Inc.
Lorrie Morgan-Ferrero / Red Hot Copy
Three E Training
Camosun College
City of Victoria
Motor Dealer Council of BC
Port Coquitlam School District
Tourism Victoria
Michael Port / Book Yourself Solid
United Way of Lower Mainland
Sooke Principals and VP Ass'n
BC OD Network


On September 11th, 2001, after the World Trade Center attacks happened, I decided in an instant to follow my true heart's desire (realizing that life can be short and we never know how much time we have left). I made the soul decision to apply my visual skills to working with individuals and away from corporations and big business.
Having trained as a Co-Active Coach via The Coaches Training Institute and as an Alchemical Hypnotherapist … I was already working visually with individuals on the side of my corporate work. After that fateful day, I vowed to pursue my passions full-time and to SHIFT my life so I could do so.
That life shift took several years and included dissolving a relationship, leaving the U.S. to return to my home town of Victoria, British Columbia, Canada and creating my second company, SHIFT-IT Coach Inc.
I now spend my time in Victoria, working visually with individuals, couples, business partners and progressive teams who come to me, either in-person or virtually (via phone and web technologies). My specialty is personal visioning, planning and 'resistance work' (using Law of Attraction methods to SHIFT inner blocks, negativity and barriers) … all in my trademark visual style of course.

Coming to this workshop and learning the base underlying visual skills (applied to either groups or individuals – or both!) is a real advantage, especially when you consider how TRULY STUPENDOUSLY BIG (and growing!) the Visual Thinking market is and how untapped it is in the helping professions. Perhaps you already knew this, but …
87% OF THE GENERAL POPULATION ARE VISUAL LEARNERS – AND MOST PERSONAL GROWTH PROCESSES
TOTALLY NEGLECT

AND EVEN

WORK AGAINST

PARTICIPANTS NATURAL LEARNING STYLES

… how truly nuts when you think about it!

In short, learning to work visually with your clients is a VERY valuable DIFFERENTIATOR for you as a dedicated and creative helping professional.

My experience has been that it truly is an ABUNDANT UNIVERSE – the visual way of working is hot and interest is really growing rapidly and worldwide, so I congratulate you on having perfect timing!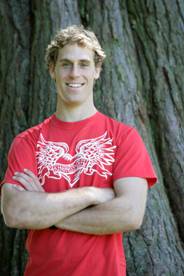 "HAVE SUCCESSFULLY ADDED VISUALS TO MY WORK AS A SPEAKER, FACILITATOR & VIDEOGRAPHER"
"One of the best trainings I have ever taken! Real world applications, genuine information and a comfortable learning lab – I recommend MEETING GRAPHICS 101 and THE GRAPHIC BOOTCAMP to anyone interested in making the world a better place. I've taken ALL of Christina's offerings – including SHIFT-IT coaching. Have successfully added visuals to my work as a speaker, facilitator, and videographer … and am doing gigs as a Visual Recorder too! The follow-up coaching after client engagements has been awesome – refines my learning and helps me apply lessons to my own business development. I'm totally stoked!"
- Erik Hanson, Speaker/Facilitator, Extreme Kindness Crew, Vancouver Island, B.C. www.extremekindness.com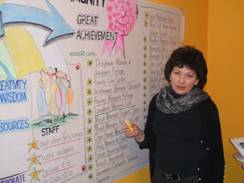 "EQUIPS YOU TO ADD VALUE TO CONVERSATIONS LARGE AND SMALL "
"A challenging and informative workshop that equips you in the different ways of using visuals to add value to conversations large and small. I'm now implementing my skills here in Ireland – and Christina please share in the glory of the wonderful comments I'm receiving from our consulting clients … 'this is brilliant' and 'many, many thanks, we are so pleased'. This work is so very rewarding and great fun!
- Elfie Rocher, Visual Recorder, Corporate Community, Dublin, Ireland
I apologize for the obscenely long length of this page … however I want to make sure I thoroughly cover things so you can make an informed decision about coming …
… here are just a few other things that people typically want to know – the real nitty gritty …
ANSWERS TO OTHER QUESTIONS YOU MAY HAVE
Q. How Many Participants Will Be Attending?
A. Both the in-person workshop and the online versions are capped at 20 participants. This is to ensure plenty of individual attention and a nice cozy learning and sharing environment — so you get lots of direct interaction and feedback with me and your fellow participants.

---
Q. Who Comes? What Are the Other Participants Like?
A. People probably a lot like you. People who've been intrigued by this work for years or just stumbled upon it and are totally excited by its existence. People come from lots of different kinds of professions, the obvious ones like coaches, counselors, social workers, facilitators, coaches, consultants, scribes and trainers. But also public speakers, architects, city planners, landscape designers, mediators, teachers & principals, college professors, story book animators, NLP practitioners, community activists, astrologers, youth workers –even lawyers and accountants (cause they totally need to get things across to their client base in an easier way and visuals does the trick).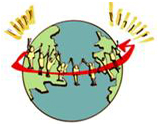 The really cool thing is where you and your fellow participants come from. Most are North American … from across the United States and Canada. However, Europeans have made the trek to work with me too – from Ireland, Netherlands and Great Britain. As well as Aussies, New Zealanders and Japanese travelers.
The workshop fee is in Canadian currency, so international folks often benefit from a healthy exchange rate (plus they've often wanted a good excuse to experience Canada's beautiful west coast).
Having such geographical diversity is nice as there is no sense of competition or territorialism — just lots of connectedness and support (members of our global visual tribe uniting).
---
Q. Where Is The Workshop Held and How Do I Get There?
In-Person Workshop: May 30 – June 1, 2013 Victoria, British Columbia, Canada
This workshop is held in beautiful Victoria, British Columbia, Canada … at a centrally located meeting site – with lots of walls! Victoria is a great little city and full of world class amenities due to its focus on tourism …

… immediately upon registration you'll receive the logistics for our meeting location – including travel options (ferry is one way to get here, the other is air). You will also be sent info on three hotels near the meeting site. Should none of these hotels strike your fancy, no problem, Victoria is a full-service tourism destination with many more to choose from. My assistant at admin@shift-it-coach.com, is available to answer your travel and accommodation questions.
In the meantime, here's Info on Travel to Victoria, B.C.
For a wealth of additional info visit Tourism Victoria's website.
---
Q. When Is The Workshop? When Will You Offer It Again?
In-Person Workshop: May 30 – June 1, 2013 Victoria, British Columbia, Canada
Given the visual and kinaesthetic nature of this method, the very best way to learn it is still in-person. If you can make it to Victoria, I highly recommend you do so. In-person public workshops are offered annually, in Spring. This workshop sells out every year, sometimes several months in advance. So reserve your spot sooner rather than later to secure your participation in this one-of-a-kind mentorship experience.
Online Training: Bi-Weekly Webinars, Dates TBD (Mondays & Wednesdays, noon-1pm pacific)
While not a complete substitute for in-person learning (nothing can fully replace the power of face-to-face), I have now created an online version of this cutting-edge fundamentals training – so folks from around the world who do not wish to travel to British Columbia (many do!) can now receive my qualified instruction. The online version of the course is offered once a year, generally in the Oct. – Dec. timeframe.
Custom Private Trainings:
Can't make the dates of the public workshop? Prefer private, customized training for your unique needs? See Private Trainings and In-house Workshops for customized training experiences for individuals and groups.

---
Q. What If I'm Already an Artist or Have Been Doing Visual Recording or Visual Facilitation For a While? And, Do I Need to Be a Certified Coach or Therapist to Take This Training?
A. While you do not need to be an artist to do visual facilitation or visual coaching … it is always nice to have skills that are complementary. Your talents will come in handy and you will be able to adapt what I teach you into your own style. You will have other skills that you'll also need to develop in order to effectively do this work, that I can help you with (learning about agenda design and process, listening effectively, capturing 'the logic trail', formatting in a rational way, etc).
If you already have some experience with visual recording or visual facilitation, then you'll have a nice base that I can help you build on for this more intimate kind of work. Most intermediate and advanced folks who come still get a tremendous amount out of my workshops (especially in the mindset and confidence area about what is truly possible). I can meet you where your current skill level and lifestyle is and get you to your next level.
As for coach or therapy certification … no, you do not need to be a certified professional, however I do expect you (if you are going to use these skills with individuals) to have some base training already in coaching or whatever helping profession you are coming from (either that or you are currently enrolled in a training program). I am not teaching a basic facilitation or coaching course here, I am teaching you a skill that you can add to your already established facilitation or coaching toolkit. It is necessary that you are aware of the special boundaries and skills required to work ethically with individuals. And that you are at least somewhat familiar with the common jargon and concepts that helping professionals naturally use.

Q. Will You Be Training Us on How to Use Your SHIFT-IT Visual Coaching System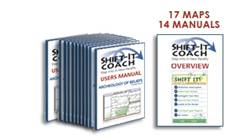 A. No, this workshop provides you with the fundamental, underlying skills you need to do general visual work with groups and individuals, not my trademarked SHIFT-IT System®. However, I do have a full Certification program that trains you in Visual Coaching methods, including use of my 17 SHIFT-IT maps. This Fundamentals Course is a pre-requisite to become a Certified Visual Coach. For more info, including info on combo packages that include all three courses necessary for Certification, click here.
Q. What If the Drawing/Art Stuff Freaks Me Out? I'm Nervous … Do You Offer A Guarantee?

A. I'm glad you asked. First off, let me reassure you that it is perfectly normal to be a bit apprehensive when you sign up – everyone is! After all, it's not every day that you choose to, in public no less, stand up at a wall and doodle and draw. Can I do it? Will I like it? What if I get stuck? – are perfectly natural questions to ask yourself. I assure you that even art traumatized people who have had nasty experiences back in grade school or some such thing do make it through this workshop very well (look at the testimonials from folks who say they couldn't draw a straight line coming in!)
Rest assured, it's really not about art anyways – it's about information and having another way to help your clients! If drawing isn't your strongest point, no problem, I break it down to the most simple basics), plus you'll have other strengths you can capitalize on like good listening, synthesizing and tracking of information.
The first day can be a little hard on some folks who have a loud inner critic or perfectionism – but by the second day that fades away and you'll relax — I really am a good, kind, gentle teacher (who also knows when to push when necessary) … so don't worry, you are in good hands!
"EVEN THOUGH I HAVE NO DRAWING SKILLS … I SEE THE 'LIGHT' – EVEN I CAN DO THIS!"
"The modeling, info sharing and skill-based practice worked so well. Nice meeting new people and great resources and encouragement. Even though I have no drawing skills … I see the 'light' – even I can do this! So with practice, just imagine!"
- Sharon White, Program Coordinator/Trainer, Ministry of Children & Families, Vancouver, BC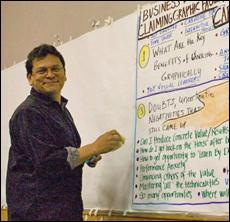 "WAS COMFORTABLE AND FELT WELCOMED … ABLE TO LET MY INNER CRITIC TAKE THE TIME OFF".
"Working at-the-wall and the synergy of working in groups too – worked well. I was comfortable and felt welcomed and supported throughout. I was able to let my inner critic take the time off."
- Rueben Sanchez, Internal Corporate Consultant, Phoenix, Arizona
As for the GUARANTEE… yes, I offer a huge one …
…. if you aren't 100% Fully Satisfied, I'll return the FULL COST OF THE WORKSHOP, PLUS $500 to compensation you for your valuable time.
Why, because I'm fully confident that not only are you going to willingly complete this workshop, you are going to have a transformative and lovely experience in the process!
Go ahead, register and attend my ENTIRE Fundamentals of Interactive-Visuals Workshop at NO RISK whatsoever. If by the end of your program, you honestly feel you did not enjoy the experience or feel I did not deliver on the information promised (and you completed your assignments in good faith), just turn in your materials, and get a full 100% refund. You see, I'm THAT confident that nothing out there comes CLOSE to the quality of my Fundamentals of Interactive-Visuals and the amazing, step-by-step process you're going to go through. In fact, if you do feel I've wasted your time, I'll even give you $500.00 out of my own pocket for your trouble, paid by check within 30 days after the event. (Yes, really!) This "make you happy" guarantee is my way of taking ANY worry off your shoulders about this important decision.
And, that's my promise to you! (For the record, I have offered this guarantee at all of trainings for many years and no one has EVER taken me up on it, but I continue to offer it nonetheless so you understand my complete confidence in what I offer!).

---
Q. SO, WHAT'S INCLUDED?
For your workshop fee, you receive:
In-Person Workshop:
Three days of jam packed training (8-5 schedule);
An impressive manual crammed with examples, charts, descriptions, articles, how to photography info, materials and resource lists, etc. (everything you might need to refer back to);
A color e-Booklet sent post-workshop by email (so you have full color versions of all of the materials in the manual);
Your own set of color markers, use of all recording materials (miles of paper, tape, cutters, pastels, stencils, etc.), plus several fun takeaway gifts;
Break snacks and beverages (lunch is on your own, so you can mingle with one another and enjoy Victoria) plus an invitation to my cocktail party on the 2nd evening;
Two DVDS of my Marker Mastery Program (so you can continue to review the drawing and visual recording/facilitation/coaching demos long after the workshop);
Plus one private, 45-minute tele-coaching session (with me, not an assistant) scheduled post-workshop for one-to-one mentoring (specific, tailored guidance on whatever you want to most focus on: chart feedback, marketing and business development work, mindset work, etc).
---
Q. SO WHAT'S THE COST OF ATTENDING?
When you take valuable skills training, like any opportunity you are considering, don't look at what it costs … look at what it's WORTH to you.
The going day rate for Visual Recorders and Visual Facilitators is $500 on the low end and $1800+ on the mid-range (some high end consultants using visual methods charge upwards of $5000+/day!). My daily rate is $3000 / day (so I'm basically teaching you my craft for less than it costs to hire me for one day!).
The cost of this workshop can be recouped quickly using your new skills (for those who apply and integrate what I teach) … or if you're internal, in the satisfaction of doing work in a whole new way that pleases you and your employer. The price of this fundamentals training is an incredibly good deal given how you are being 'taught to fish' – a skill that can keep you feed, happy and personally satisfied for years to come (let alone all the great insights, breakthroughs and results your clients will reap).
Your Wise Investment in Your Professional Skills Is …

In-Person Workshop: May 30 – June 1, 2013 Victoria, British Columbia, Canada
$1997.00
Several Easy Payment Plan Options Available:
Your choice of one full payment or divide your into convenient monthly payments (3, 6 or 12). First payment immediate, then every 30 days
for remainder of plan.
Act Now! Only 1 Spot Left!

Phew! There You Have It … This Course Is Loaded To The Gills WITH VALUE!!!
So, in closing … if you are attracted to the visual way of working (whether
you want to work with groups, individuals – or both) I hope I have made it abundantly clear about why this workshop is a very smart professional investment. Fundamentals of Interactive-Visuals is one of the very few places IN THE WORLD where you can receive quality instruction in the full range of these rare and useful skills under one roof … and gather with your visual tribe. I look forward to meeting you, training you and introducing you to your like-minded (and hearted) colleagues!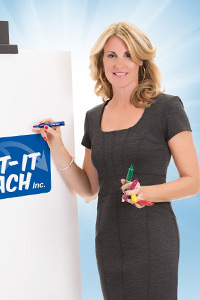 Doodlers Unite!
Warmly,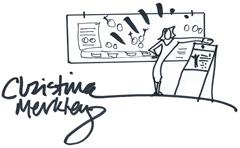 Christina Merkley,
Interactive-Visuals Mentor
& The SHIFT-IT Coach
SHIFT-IT Coach, Inc.
P.S. Further Questions? Hopefully I have answered all questions you might have, but if not, feel free to email admin@shift-it-coach.com and I or my assistants will get back to you ASAP.
P.P.S. Sometimes people are really pulled to come to this workshop and don't quite understand why (it's not a rational decision but an intuitive one). Like my previous attendee Val, who wrote two and half months later to tell me she landed an Executive Director position at double her salary – by using 'visuals' to seal the deal (she used a visual template to not only interview the Board that was interviewing her, but to engage the front line staff as well – which they loved!). Needless to say, she (and her loving but somewhat skeptical husband) were very happy with her return on investment and that she followed her intuition to come!
P.P.P.S Still looking for more info? Here are a few videos of visuals in action … from a previous Meeting Graphics training and a Life Map process with a workshop volunteer.
MORE SATISFIED STUDENTS RAVE!
THE WORK ITSELF IS QUITE PROFOUND BOTH PROFESSIONALLY AND PERSONALLY
"New to visual recording, I have found that the work itself is quite profound both professionally and personally. After taking the Fundamentals of Interactive-Visuals, I took the opportunity to meet with Christina for a 1:1 coaching session. Her ability to listen and share the type of resources I needed to take my next steps has launched me into sharing new ideas at work and fulfill myself personally through further training in interactive visuals. I'm currently taking the SHIFT-IT Online Group and short of turning into a navel-gazer, I'm discovering my true essence, what motivates me, and how I can embrace my highest potential. I look forward to experiencing what the coming weeks will bring and how I can apply my "new found self" to my existing life in new ways.
Of all the healing modalities and techniques I have studied, Christina's approach to her work is impeccable. We are fortunate that she shares her gift with the world."
Heather Martinez, Graphic Designer / Visual Practitioner, Colorado, U.S.A.
AFTER CHRISTINA'S TRAINING I IMMEDIATELY USED INTERACTIVE-VISUALS IN MY SEMINARS… AND PEOPLE LOVE IT!
Graphics have changed my life! Taking Fundamentals of Interactive-Visuals was the best professional development favor that I've done for myself in a LONG time. Christina is a wealth of knowledge and experience… and I especially appreciate her practicality.
Participants get plenty of "ink time" plus in-depth info about visuals, visual learning and consulting… and connecting with the amazing people that are also drawn to this material. Afterwards, I immediately began using visuals in my seminars, and people LOVE IT!
Lisa Edwards, Corporate Wellness Consultant, www.radiatewell.com
FOLKS WERE FASCINATED WITH THE VISUAL RECORDINGS
Fundamentals of Interactive-Visuals! Not only did I get some amazing new skills but you also took me deeper in my personal journey …I have another community now too!
I've just returned from a Quality Academy for healthcare professionals that we teach – a 6-month residency program … where I did my first public Visual Recording. It was a little scary, but once I got up there, it was fine. Folks were just fascinated with it and wanted pictures because the visual recordings help them remember the content of the presentations.
I now understand how the icons get embedded in your cells. I used the icons in your book to get inspiration and have started my own icon library. Am continuing to practice your lettering tricks and have rolls of the large white paper on order. Extreme fun! You are what I needed next. I will stay in touch for ongoing coaching!"
Katie Procter, Healthcare Quality Leader, Vancouver, British Columbia
"Interactive, practical, starts up slowly so you build your confidence – fun! Best workshop I've been to in a long time and very applicable to the work I do."- Anne Fraser, Change Management Coordinator, Calgary Health Region
"Invaluable training – even more than I expected! I was amazed that I was actually able to draw icons and do lettering. Not at all intimidating and great opportunity to enhance companies assets (employees) for engaging meetings."- Rebecca Alexander, Senior Researcher, Thought Leadership Team, Microsoft, Seattle, WA
"I loved this workshop! I don't have a single artistic bone in my body and was still stunned at what I could do by the end of the day. Christina's teaching style is approachable and supportive. The fact that most of the workshop was hands-on really helped to boost my confidence".- Jill Reid, District Staff Development Team, Coquitlam School District
"This was the best organized workshop I've EVER taken – helpful, thorough, and met expectations. Also, I liked the small size of the group and the quiet room. Very informative on skills; nothing withheld. Also liked the location in the city".- Cynthia Stewart, Olympia, WA, Facilitator/Mediator
"Visual Facilitation makes facilitation a lot more interesting for both facilitator and audience. This workshop was excellent. The process allowed hands on practice and feedback. Easy to learn. I highly recommend it to others".- Rosanna von Sacken, Advanced Consulting Inc.
"This was an exhilarating, full filled introduction to the world of visual facilitation. Christina's style put me at ease and set the stage for me to step outside of my comfort zone".- Melissa McLean, Senior VP, Marketing & Communications, Tourism Victoria
"The emotional connection with the material really worked well – my own involvement and those around me being so engaged and heart felt. A good mix attuned to the range of individuals in the class".- Ken Enright, Consultant, Bainbridge Island, WA
"Excellent! Great instruction and coaching – lots of time to practice – many methods. Excellent handouts and examples".- Cassandra O'Neill, Sustainability Consultant, Tucson, Arizona
"Well-paced, very well taught, great time management and just the right blend of learning then practice. Very supportive and wonderful course – I learned a ton! Excellent supporting materials and takeaway materials".- Suzanne Enright, Leadership/Intercultural Consultant
"Great explanations, respectful, appreciative approach – Christina is so passionate about her work and is generous in sharing this with the learners".- Alison Meredith, Private Practice Coach and Faculty at Royal Roads University / Schools of Leadership Studies
"Christina you hit the mark! Big impact. No more single page flip charts!"
- Ryan Girard, Business Process Consultant, Victoria, BC
"Everything worked well – gentle introduction and lots of resources. I have no artistic skills yet soon found myself doing visuals! It was SO fun!"- Kim Kelso, Project Manager/Facilitator, Ministry of Children and Family, Vancouver, BC
"Great workshop from start to finish – can't believe how much we covered! Great facilitation: well paced, clear, calm and enjoyable. Thanks so much".- Paula Beltgens, Participatory Research Facilitator, Vancouver, BC
"Christina is a master of her craft and shares generously. Tons of quick tips and a great foundational AND inspirational course".- Darcy Riddell, Hollyhock Leadership Center, Vancouver, BC
"Visual facilitation and coaching is the key I've been looking for to help make my workshops and coaching/counseling have more impact on people – most people I work with are visual learners, so I'm excited to include this new tool in my toolbox".- Linda Coltura, Coach, Vancouver BC

I look forward to you joining us!